PROFILE
"Green Service for a convenient and enriching human life"
As a leading eco-friendly company,

ecostech has been researching manufacturing technology of natural molded pulp containers with Korea's first production facility to leave our descendants a clean environment. For 20 years we have completely dedicated ourselves to producing the best 100% natural pulp packaging with the best facilities in Korea and the know-how and technology gathered over years of experience. All of our production facilities are managed in a clean and safe place and manufactured products undergo strict quality control.
Equipment status
Model
Use
Dimensions(㎜)
cavity / cycle
Possession
capa / month
Molded pulp for food
(stsndard)
Small mold production
260 x 200 x 45
8ea / 23 seconds
5
4,000,000
Molded pulp for food M/C
(large)
Large mold production
280 x 260 x 65
8ea / 25 seconds
13
10,000,000
Molded pulp for food M/C
(Self-developed/left, right independent)
Small, medium mold production
260 x 260 x 45
6 ea / 25 seconds
6 ea / 25 seconds
2
2,000,000
Small test equipment
Sample production and new product development/production of products not for food
280 x 280 x 280
30 ~ 50 seconds
1
13,000
Coating M/C
Coating products production
General purpose
2ea / 1.5 seconds
2
2,000,000
Automatic cutter (self-developed)
Product shape cutting
400 x 200 x 45
3ea / 6 seconds
2
800,000
Pad printer
Printing on exterior of products
Logo 70, Products 300
1ea / 6 seconds
1
120,000
Production Process Chart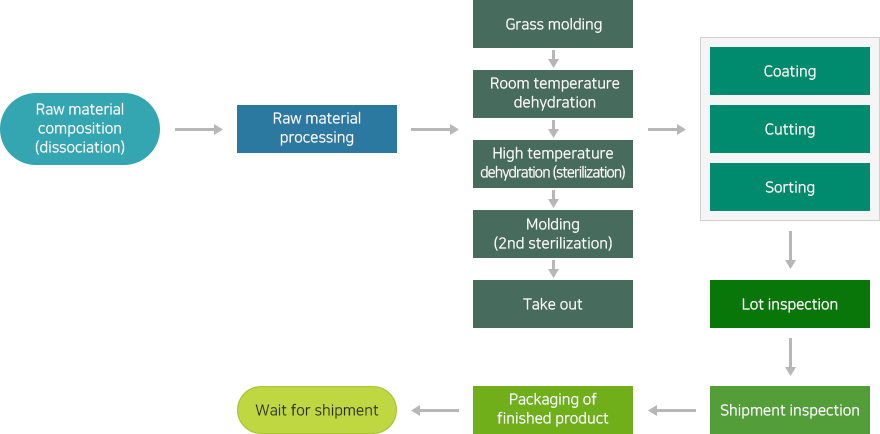 Raw material composition (dissociation) : Only 100% pure natural pulp is used with fresh water to dissociate raw materials
Raw material processing : Pulp fiber processing for pulp mold shaping optimization
Product molding : Product molding via 4 different processes / Sterilization and disinfection via heat bleaching and 250 °C heat pressure during shaping
2nd processing : Coating, cutting, and selection of shaped product according to customer's requests
Lot inspection : Lot inspection to make sure the products of the 2nd processing are safe and high quality
Shipment inspection : The products that pass the lot inspection and undergo a strict QC examination are approved
Packaging of finished product : Only the products that pass the QC examination are packed (all products that do not pass are discarded)
Wait for shipment : Products that are packaged in a carton box are wrapped to prevent contamination and wait for shipment
Pictures of equipment
Process flow
Material

The materials department sends the prepared materials to the pulper.
Materials preparation

Materials : Separation of by-products after wood processing

PULPER

PULPER: Mash the pulp in water.

Refiner: Break down the pulp by grinding

Transport device: Sends the pulp to the supply unit.
Production line

The production line consists of raw material supply + production work + product removal
Raw material supply

Combination equipment: Combines chemicals according to the application

Supply device: Sends the raw materials to the paper machine

Production work

Paper: Place raw material into net at the concetration

Pressure dehydration: Pressurize the paper product to about 60% dehydration

High temperature dehydration: Dehydrate by pressure and heat, and then perform the primary molding (175℃)

Molding press: Dried by high pressure again, followed by molding. (230℃)

Product removal

Product removal: Take out products by vacuum suction

Automatic layering: Automatic layering depending on product order
Product inspection

Product inspection is directly done by a person visually
Product inspection

Visual inspection: Individual separate inspections
Drying furnace

Product drying furnace dries the remaining moisture in the product
Product drying furnace

Drying process: Dry product moisture at 200 °C to secure strength
Coating

Coating is an option depending on the need(Option)
Product Coating

Coating: Choose coating/no coating depending on the application of the product
Shipment inspection

Shipment inspection is the last inspection stage
Shipment inspection

Shipment inspection: The final inspection in which the product is judged to be good enough for sale
Wait for shipment

Safely stored while waiting for sale
Wait for shipment

Products will be shipped to nationwide distributors after they pass the shipment inspection and are loaded by product type
Quality Control Process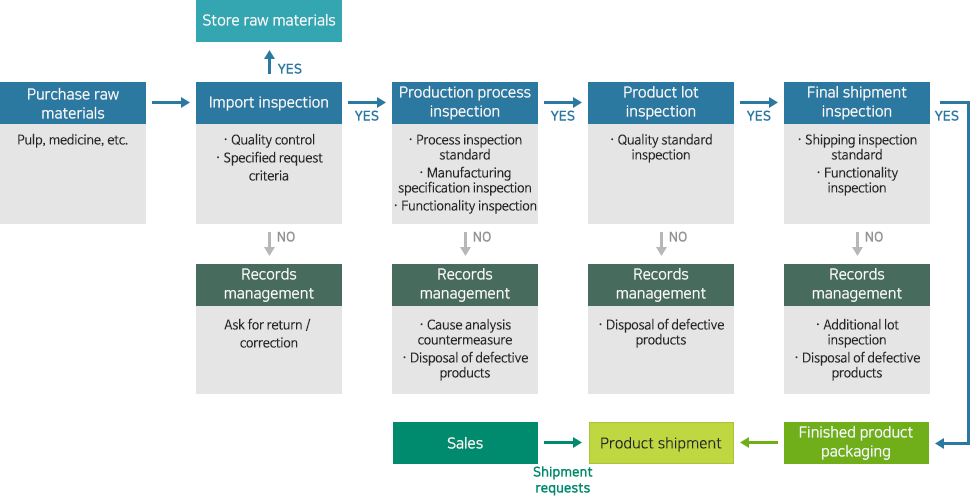 Customer complaint handling